Since 5/13/00 (ouch! the counter was at 1594 and reset as well as all of the other counters....Thank you Tripod! I now know that the numbers are not important.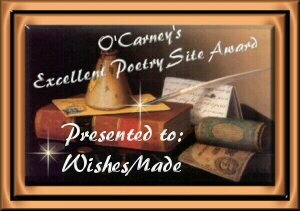 Wishes Made...
Wishes Made, cast on a star...
Make a wish and hope it comes true...
Wishes Made on a dream from afar...
Hold it very close to you.
Wishes Made, birthday candles blown out...
Close your eyes to make it real...
Wishes for happiness will happen no doubt...
Blowout all the candles just to seal.
Wishes Made, coin tossed into a well...
To join so many others, who also threw...
Did it work for them, or did it fail...
These were old wishes, made anew.
Wishes Made, or so it seems...
To someone higher, to take care...
Wishes Made are only dreams...
Another day in reality we now share.
WishesMade
copyright 11/12/99
Music on this page written exclusively and performed for the poem "Wishes Made", which turns it into a song, by
Kara
. It is used with her expressed written consent, however copyright and all rights reserved are held by Kara B. White, 07/21/00 (thank you so much for the gift, Kara, my friend who I have never met, you are so kind!). Also listen to the music Kara gave me for another poem at
"Tell Me Once and Then Once More."
More Poetry of Passion
(<~~~click for more WishesMade originals)
Even More Poetry of Passion
(oh no! more! (-: )
More Than A Sad Heart
(If you only read one poem on this site, read two, it is the duet between Belladora and Wishes, but bring tissue)
about friends)
Guest Book
(don't even think about leaving without signing, thanks)
Hint: Minimize rather than cancel the popups and they do not return